If you're sat at home milling through what 2020 has bought you & you're now looking at what to accomplish in 2021 please read on.

For anyone that's read @jamesclear - 𝗔𝘁𝗼𝗺𝗶𝗰 𝗛𝗮𝗯𝗶𝘁𝘀 you'll know exactly what this image represents. In this short article I will discuss each of these 3 steps to give you a break-down of how to achieve your goals & smash this year.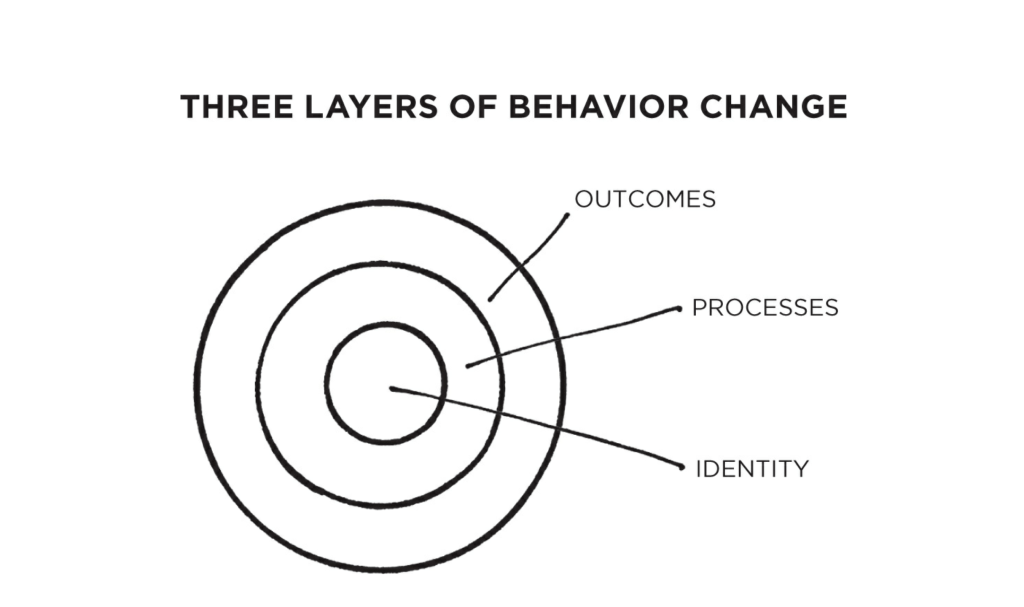 Long lasting change all starts with creating a new 𝗜𝗱𝗲𝗻𝘁𝗶𝘁𝘆!
Everything you do (especially in health & performance) is a reflection of the person that you are right at this very moment in time.
Changing your identity & belief systems (including judgements, biases, self-image) is the key in all of this.
S.M.A.R.T. GOALS AREN'T ALWAYS THE ANSWER
The problem with SMART goals is their somewhat tunnel vision approach, focused on a destination rather than changing what lies deep within your core.

When we look at identity based goals we build habits into our life based on 𝗪𝗵𝗼 𝘄𝗲 𝘄𝗮𝗻𝘁 𝘁𝗼 𝗕𝗘𝗖𝗢𝗠𝗘!

If the goal is Weight-loss become the person that moves everyday & believe you can - even if this means something as accessible as walking 8-10k steps.

Likewise if the Goal is to build muscle & get stronger build an identity that never misses a workout!

No amount inspirational YouTube content is going to get you the outcome you deserve & nor relying on someone else to gear you up to achieving something
WRITE A CONTRACT WITH YOURSELF
I use a technique where 𝗬𝗢𝗨 make a written & verbal contract with 𝗬𝗢𝗨𝗥𝗦𝗘𝗟𝗙 - creating something abstract in a journal or notebook that describes the person you what to be!

From this actionable process you focus more on the person you want to be rather than result or destination that it takes you to.

𝗥𝗲𝘀𝘂𝗹𝘁𝘀 𝗰𝗼𝗺𝗲 𝗳𝗿𝗼𝗺 𝗰𝗼𝗻𝘀𝗶𝘀𝘁𝗲𝗻𝘁𝗹𝘆 𝗹𝗶𝘃𝗶𝗻𝗴 𝘁𝗼 𝘁𝗵𝗲 𝗶𝗱𝗲𝗻𝘁𝗶𝘁𝘆 𝗬𝗢𝗨 𝗰𝗿𝗲𝗮𝘁𝗲𝗱.

This is the first step in making 2021 a success on your journey
Looking at the model James Clear provides in Atomic Habits, the next pillar to consider when smashing your goals is the 𝗣𝗿𝗼𝗰𝗲𝘀𝘀

Being motivated by an outcome or destination is a positive place to start when looking to achieve your health & performance based goals

However, rather than solely focusing on a number on a scale or weight to be lifted much better results can be achieved when YOU focus on p𝗿𝗼𝗰𝗲𝘀𝘀 𝗯𝗮𝘀𝗲𝗱 𝗴𝗼𝗮𝗹𝘀 rather than 𝗼𝘂𝘁𝗰𝗼𝗺𝗲 𝗯𝗮𝘀𝗲𝗱 𝗴𝗼𝗮𝗹𝘀.

Process based goals put the ball back in your court - they allow you to control the actionable steps along the way that drive those habits & routines on a daily basis!
PROCESS v OUTCOME BASED GOALS
When we use the example of losing weight a process based goal could be achieving 10000 steps each day & conversely if it's strength based it may be focussing on achieving 4 strength sessions over a week.

Outcome based goals such as SMART often drive an obsessed with the result (which can be a great tool) but the processes that YOU have put into place are forgotten about & seem meaningless on the grand scheme of things.

A great way to establish what those processes are need for your goal is to write down a list of things you need to do daily/weekly/monthly to achieve an outcome - start by committing to 1 or 2 of these things in the early stages to ensure you're not being overwhelmed.

𝗜𝘁'𝘀 𝘁𝗵𝗲 𝗻𝗼𝗻-𝗻𝗲𝗴𝗼𝘁𝗶𝗮𝗯𝗹𝗲 𝘁𝗮𝘀𝗸𝘀 𝘁𝗵𝗮𝘁 𝘆𝗼𝘂 𝗻𝗲𝗲𝗱 𝘁𝗼 𝘄𝗶𝗻.

Ticking these off each day is where the real enjoyment & progress happens along your journey. Celebrate every little win & remember the small steps every day are what counts.
We've now established the first 2 steps in changing your beliefs surrounding goal setting & harnessing the emerging identity that you want to take on along with following the habits you put in place.

The more a behaviour & habit is repeated the more you take on the embodiment of that person you want to be.

𝗜𝘁 𝘀𝘁𝗮𝗿𝘁𝘀 𝘄𝗶𝘁𝗵 𝘁𝗵𝗲 𝗹𝗼𝘄𝗲𝘀𝘁 𝗵𝗮𝗻𝗴𝗶𝗻𝗴 𝗳𝗿𝘂𝗶𝘁𝘀!

These are those very habits I've mentioned - we take on the language of who we want to be, we take on the acts of that person you want to be & now we become that very person you envisaged at the start of your journey.

But don't bullshit yourself into thinking that once you achieve that goal it's done...

The identity is reshaped, the processes continue to grow & challenge you, as well as the outcomes of you achieving those things yielding a greater return based on how much you invest in the process.

𝗡𝗼𝘄 𝘄𝗲'𝘃𝗲 𝗿𝗲𝗮𝗰𝗵𝗲𝗱 𝘁𝗵𝗲 𝗵𝗶𝗴𝗵𝗲𝘀𝘁 𝗵𝗮𝗻𝗴𝗶𝗻𝗴 𝗳𝗿𝘂𝗶𝘁𝘀!

The highest hanging fruits continue to grow at the top of the tree - this is why identity & process based goals are key.

What happens when you achieve a SMART goal (reach the top)?

You achieve it but then what? Where do go, has it made you happier, has it changed your deep routed core, made you a better person, changed your beliefs, connected you...

Yes it's a useful tool but in order to 𝗦𝗺𝗮𝘀𝗵 𝗬𝗼𝘂𝗿 𝗚𝗼𝗮𝗹𝘀 it starts with the incredibly small & finer details you need to help you believe that very thing about yourself.

Your goals need to start with who you want to be