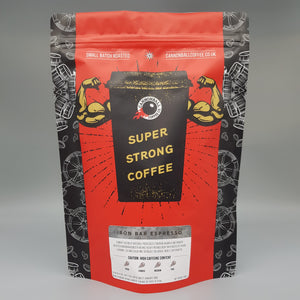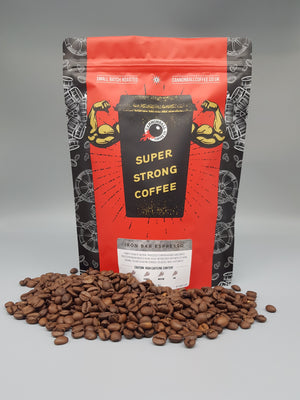 NEW FOR WINTER 2021
Iron Bar is our first coffee roasted specifically for espresso. It's a 50:50 blend of darker roasted Rwanda robusta, and natural processed Ethiopian coffees. 


It's got an amazing heavy intense body and notes of roasted cacao nib, caramel, raisin, fig, and pomegranate. Seriously delicious and moreish, with a nice caffeine punch. You'll love it.


The rich, heavy mouthfeel makes Iron Bar perfect for espresso. It is also great in an AeroPress. 
Both the coffees in this blend are quality single-origins from specialist growers, and fully traceable. As with all our coffees it is roast to order in our micro roastery in Dorset and shipped direct to your door.  You can rest assured you are getting an ethical artisan product.
Cannonball coffee
Amazing coffee, I have been using the cannonball beans since I met the team at FitXpo 2021and haven't looked back
Best Brew
This coffee has got a kick of a mule, keeps me awake almost all night, as I work nights. Always looking for the best coffee maker up till now this is spot on
Great
As promised, it has a high amount of caffeine and excellent flavour making it a great way to start the day
The best ground coffee
Absolutely amazing product! Recently a father of now 2 and the Iron Bar Espresso is keeping me fuelled for those early mornings.
Amazing!
Iron Bar on subscription! It's the only way, am I right??!!