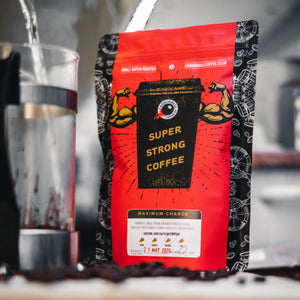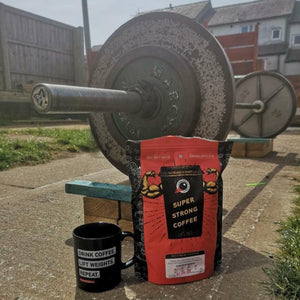 "First high caffeine coffee that lives up to its tout as highly caffeinated, medium roast and smooth to drink" - Jeffery O
Maximum Charge is the strongest coffee in the UK. It's made from highly caffeinated single-origin Robusta coffee beans from Rwanda. Medium roast for a really smooth & complex taste, with notes of dark chocolate and toasted malt. Maximum Charge is the perfect coffee to help you get sh*t done.
Unlike other strong coffees it's not over-roasted and bitter. If you like a really dark roast then this is not for you.
BENEFITS
🔋 Become a morning person. Caffeine is scientifically proven to improve physical performance and make you feel more focused. With over 400mg per serving, this coffee contains loads of it!
❤️ Packed with powerful antioxidants. The type of bean, freshness and a lighter roast means lots more antioxidant rich polyphenols than other coffees.
👍 Premium beans hand roasted in small batches. A genuine craft product that tastes amazing.  Click here to see what the experts say
😎 Money back guarantee. If you don't love it, we'll replace with a coffee of your choice
 

IT'S ALL IN THE GRIND
For more information on the best grind type for your coffee maker head to the brew guide section.
UP, UP, AND AWAY
I like to consider myself as a bit of a connoisseur when it comes to coffee.
I have tried coffee from all over the world some really expensive and some not.
What i have come to find for myself is Cannonball Coffee and Strong Shit coffee. Seem to be a fine balance between Robusta and Arabica coffee that give a pleasant flavour and a nice pick you up.
I will continue to support Cannonball super strong coffee in the future.
Smoother than James Bond
5 Star coffee, branding on point and company history & ethos deeply impressive. Quality of taste, turbo boosted caffeine level and wonderful aroma. Nothing else gets even close.
Best coffee
This is the best high caffeine coffee I've ever had, helps fuel all my workouts after a hard days work!