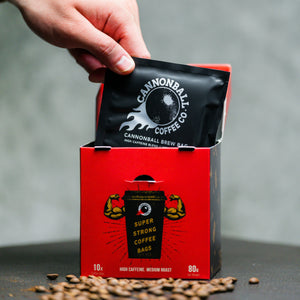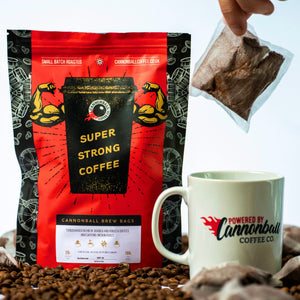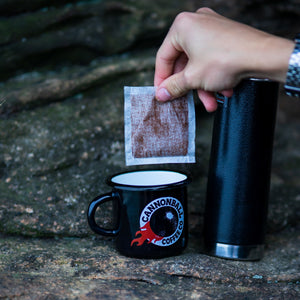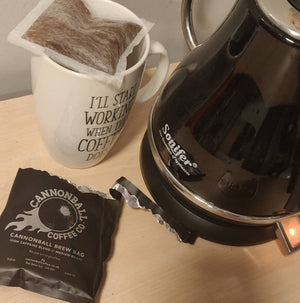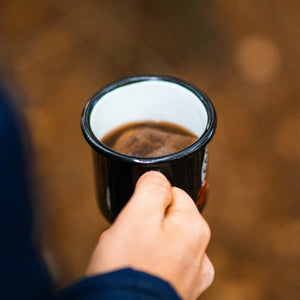 "Loving my cannonball brew bags. Can't beat an effortless cup of coffee. Cup. Bag. Water. Idiot proof. Not to mention...its got a delicious punch packin' taste to it." David M

Now you can make delicious high caffeine coffee in just two easy steps

1. Put a brew bag in a cup
2. Add hot water
That's it. No mess, no fuss, no nonsense. 

Medium roast Indian Robusta and Brazilian Arabica beans. High in caffeine, but smooth & mellow tasting. 
Contains over 150mg of caffeine per serving!
They come in handy individual sachets so you can take them anywhere. You will never need to settle for instant coffee again. 
Less than 35p a cup when you buy a jumbo bag. 
Coffee bags
Smooth, strong coffee in a brew bag
Coffee beans and bags
Perfect morning coffee, always recommend cannonball to friends and family. Great tasting coffee, quick delivery, and the bags are really convenient
Fantastic
Can't recommend these bags enough. So convenient and obviously delicious.
Always fast delivery and customer services are perfect 👌🏻
Great coffee
Great coffee and very quick delivery
Good customer service with send email throughout the delivery with updates and checking in after your delivery to see that everything is ok with your items
Great on the go!
I love my AeroPress or even machine coffee but these bags are great for the days that you either can't be bothered with the hassle of set up and clean down.
Great at work too as well as on the go.