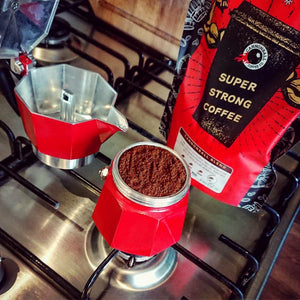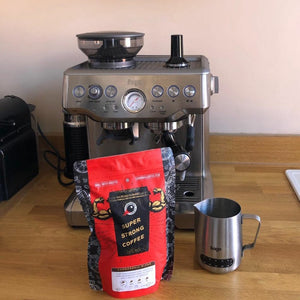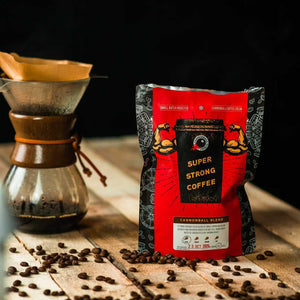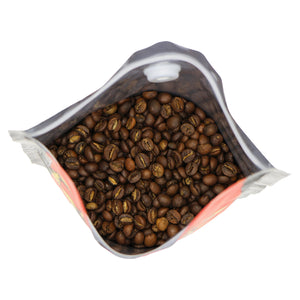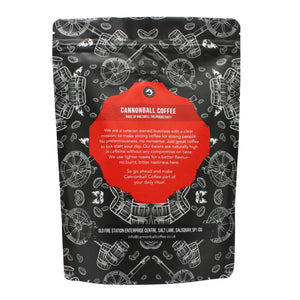 "I think of all the beans you guys put out its my favourite; there is enough pep in it but not so much that having it too late in the day ruins a night sleep." - Brandi Laithwate
Are you in need of something to brighten your mornings?
We have just the thing:
Cannonball Blend is our signature high-caffeine blend of speciality single-origin Brazilian arabica and Rwandan robusta beans. This coffee is strong and bold, but really, really tasty. It has notes of chocolate and nut, but packs a caffeinated punch. 
DETAILS
Beans
Brazilian arabica (natural process) - 50%
Rwandan robusta (fully washed) - 50%

Strength
Medium roast coffee with 50% more caffeine than regular coffee. It is the middle of our three blends in terms of strength. 
100% Satisfaction Guarantee
We'll promise you'll love this coffee. If you don't we'll give you your money back. Simple
Which Grind?
For more information on the best grind type for your coffee maker head to the making coffee section.
Great tasting strong coffee
Amazing taste
Absolutely love the maximum charge and the cannonball blend .
The Best
The only company I ever order beans from! I've tried other companies and brands and they don't compare. This is my favourite of their beans to order. It produces and very smooth and tasty espresso.
The product, the service, the personal touches and the way this company makes me feel as a customer means I'll always use their coffee. Cannot recommend them highly enough
2 year review...
This is my review after 2 years being with Cannonball Coffee. I started a monthly subscription in March 2021, this was following a few months trying different blends. I prefer the coffee for the Filter/ AeroPress. I also use the Cafetiere.
I can honestly say that the coffee is amazing, Cannonball make it fresh on order and you can tell when you open the bag of your order, the smell is gorgeous. Don't even try to compare it to a supermarket sweep-ups. This is the top of the premier league !
Customer service - again this is second to none, on my subscription I am notified when the order has repeated, and further notifications where the parcel of coffee is and delivery etc with tracking numbers. On the odd occasion when I have contacted CC personally by email regarding order changes, I have received a personal response within 30 minutes.
It does not get better than this, treat yourself and get the best coffee and be reassured the customer service tops it nicely.
Smooth like a Dolphins Nose with a Kick like a Brewery Horse
A perfect blend of the best beans. Smooth as you would expect from cannonball, perfect for that afternoon delight, when you need to get Shizzle Done, But don't want to be bouncing off the office walls. As always no dialling in issues from Maximum Charge to Blend.
Perfect Crema and Beautiful Flavour.