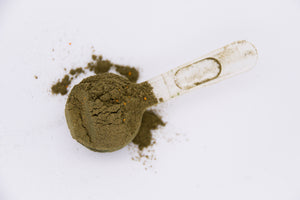 "After a hard night with not much sleep and having done my first workout in months the evening before I used the greens with my breakfast, and I was highly impressed with the way I felt in a short time afterwards." - Geoff Silk
SUPER-CHARGED GREENS POWDER
Get even more out of your morning with this extraordinary health stack supplement.
Plant based phytonutrients from nature's premium greens and antioxidants with a powerful blend of adaptogenic herbs for a noticeable boost
Greens Stack provides exceptional levels of nutrients that even the best balanced diet can't achieve. It makes you feel incredible. 

We love this product so much we've signed up to become a distributor for Hence. 
Trust us, this stuff is the real deal. Otherwise we wouldn't be selling it. From day one you'll notice results, starting with a boost in mood and energy. The longer term effects are even better - assisting with everything from physical strength to brain power, and even protection from all kinds of diseases and ailments.
Don't just take our word for it. Read the science here
INGREDIENTS

Other greens drinks are bulked out with soy lecithin and apple powder. Hence Greens Stack is all killer, no filler
Organic spinach leaf for iron and vitamin K. Organic as it takes lots of it's best properties from the ground it grows in.
Kale for anti-inflammatory, antioxidant and phytonutrient properties. Anti-ageing, anti-cancer, cognitive support, vision, heart health.
Broccoli sprout a source of sulphoraphane, an amazing anti-cancer molecule as well fat-loss, gut-health and bone strengthening properties.
Matcha is a type of green tea rich in catechins, which neutralise free-radicals, boost energy and reduce stress.
Spirulina is a blue green algae famed for it's energising, fat burning and immune system boosting properties.
PLUS: Moringa Oleifera - Curcuma - Yamabusitake - Dang-Gui Buxue Tang - Black Pepper Extract - Maca Root Extract - Ashwagandha Extract
+ stevia and natural flavouring
DIRECTIONS

Take early in the day to harness its full power. 
Start with 1 scoop about 1 hour after waking up. You can add it to water (we suggest 300ml) or put it in your shake, smoothie or juice.
Try increasing your dose before a sporting event. Greens Stack will offer extra immune support, and reduce free radicals and inflammation - perfect for combatting the increased strain of preparing for a competition.
For some, the energy boost can last for a couple of days so you may not need to use Greens Stack every day.
CONTAINS 30 SERVINGS 
Fulfilled by our partners at Hence Stacks 
Great help
Been of great help in recovering from long covid will continue to use exceed