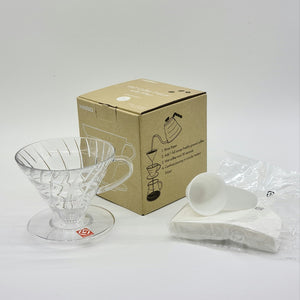 Want to make better coffee on a budget?
The Hario V60 coffee maker is the world's most popular and cost-effective drip filter system.
Simply place on top of a cup, insert a filter and add your favourite Cannonball blend and slowly pour hot water over the grinds. Makes smooth and balanced coffee. For more information on using the V60 dripper check out 'Making Coffee'. 
This set includes:
- Transparent dripper
- Measuring scoop
- 40 paper filters. 
Recommended Grind: Medium
Once you get your technique right its simple and easy to use, great for that single cup at home or on the go!
Until I actually went on the Cannonball website I never knew about this coffee contraption and it peaked my interest so I ordered this device and am so glad I did. It for sure brings out the full flavor of the coffee unlike a regular coffee maker leaving it with a watered down taste to say the least. It has for sure brought out the fullness of the coffee and would suggest as well as recommend this to anyone who wants a very good tasting coffee every time. I for sure will be telling others about this contraption and for sure will be recommending this for any coffee drinkers who wants a full bold flavored coffee and not something watered down.