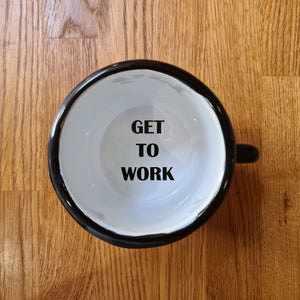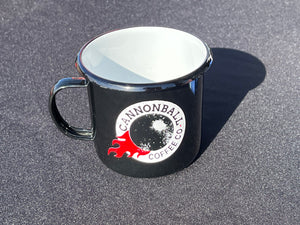 WITH NEW 'GET TO WORK' DETAIL
Drink your coffee in style with an indestructible mug for the intrepid adventurer. 
This sturdy handmade enamel mug has the Cannonball Coffee logo on the outside and a motivating message inside.
It has an increased 420ml capacity, and is wide enough to fit an AeroPress.
Please note - because they are handmade there are slight imperfections in the finish and each one is slightly different. 
FAQs
Q: Can I put this mug over a fire?
A: Yes. It is campfire safe
My perfect working from home mug! Love this for a good cup of coffee while getting through the to do list. It has the motivational phrase "Get to work" at the bottom...and it works a treat!
It is permanently packed in my weekend camping "grab bag". Love the design and coffee tastes 100% better than out of my pussers green plastic mug.