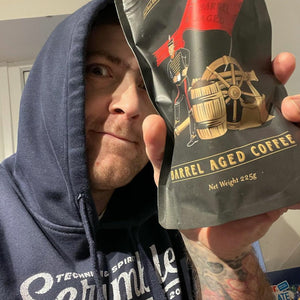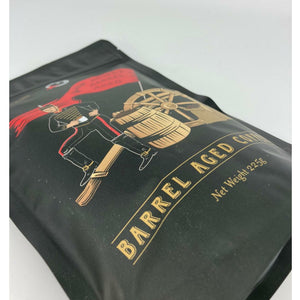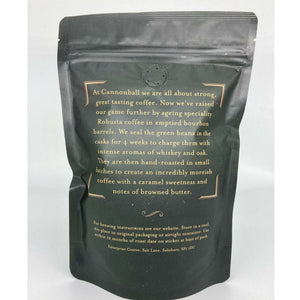 Stock is strictly limited. Don't miss out
Rwandan Robusta coffee beans aged for 30 days in an emptied bourbon barrel.
Robusta beans create coffees that are full-bodied and high caffeine. Aging in a whiskey barrel infuses them with amazing aromas to produce a really rich coffee with bold notes of stone fruit and oak. 
Roasted in very small batches, availability is strictly limited. 
maybe just the smell is better then the taste
First, when you open the bag you smell the unique coffee smell mixed with some whisky. Then second when you make your first coffee you can taste the really nice coffee taste plus something much more.
Cannonball is an amazing company
Unique wholesome taste
Great taste to this roast. I save it for weekends or to make an espresso martini with. Would recommend, especially if you like single malt
Get it while it lasts!
This is my 3rd Order of this amazing coffee. I'm back off to sea, so it's staying sealed until I'm onboard. Cannonball Coffee is the only company I now order coffee from and their products and customer service is First Class.
Don't believe me????? Get onto their website and see for yourself.